Maliban clinches Best Exporter Award at Presidential Export Awards 2019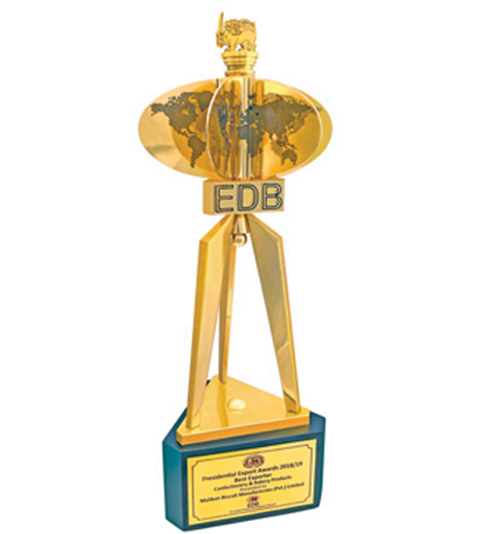 10th December 2019, Colombo: Maliban, the pioneer biscuit manufacturer in Sri Lanka, was recently honoured with the Best Exporter Award under the Confectionary & Bakery Products category at the 23rd Presidential Export Awards (PEA) 2019. This prestigious award ceremony was organized by the Export Development Board (EDB) and unfolded at the Bandaranaike Memorial International Conference Hall (BMICH).
The Presidential Export Awards (PEA) are presented to entities who have made a significant contribution to Sri Lanka's export market. Holding this highly sought-after title stands as a testament to Maliban's contribution to the export sector and thereby to the economic growth of the nation. In addition to the PEA trophy and certificate presented at the awards ceremony, Maliban will be able to use the award logo as a marketing tool for the next three years.
Before walking away with this prestigious title, Maliban was subjected to a stringent judging process and evaluated based on their performance during the financial year 2018/19 in terms of export turnover, number of employment opportunities created, market diversification, growth rate and value addition. This award was also in recognition of Maliban's strong presence in Europe and the USA.
Commenting at this momentous occasion, Managing Director of Maliban Biscuit Kumudika Fernando voiced her thoughts as follows, "As we accept this great title bestowed on us, we are more than humbled. As an organization that is deeply committed to the prosperity of our nation, we believe this award will drive us to enhance our performance and enter new international markets, all while taking Sri Lanka's name in the world of exports to new heights. Additionally, on behalf of Maliban, I wish to express our gratitude to the PEA for recognizing our efforts with regard to this achievement."
As an internationally recognized brand, Maliban has achieved many awards over the years, all standing as evidence of their continuing efforts to raise the bar of excellence in Sri Lanka. Since the company's inception in 1954 as the pioneer biscuit manufacturing company, Maliban has been the golden standard with their use of world-class ingredients and state-of-the-art manufacturing processes. At inception, family members used to taste products to monitor the quality and output. To this day, this practice continues. In the recent past, Maliban has received several prominent national and international awards from reputed awarding bodies for achieving business excellence in South Asia.