Maliban accredited as a Great Place to Work®
Committed towards uplifting workforce and enhancing organizational culture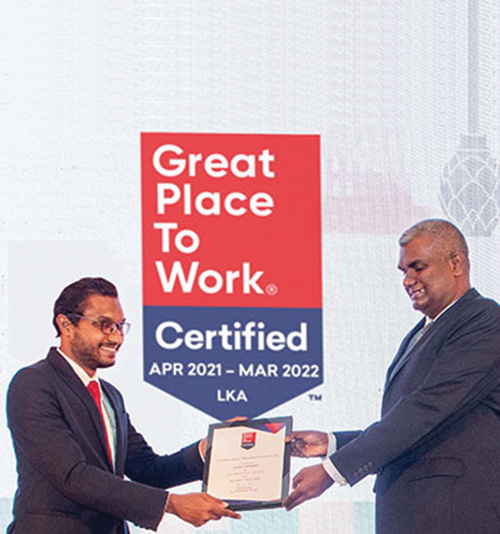 November 2021, Colombo:Maliban Biscuits, one of Sri Lanka's most trusted and respected consumer brands, was recently bestowed the "Great Place to Work" certification resulting from the organization's sheer commitment and dedication towards the wellbeing of its employees. Inspired by goodness, this recognition evidently showcases Maliban's continued efforts to improve employee satisfaction and enhance its work culture, spanning across decades of operations.
Standing as a testament to the company's continuous strive to treat all internal stakeholders as a priority, Maliban successfully met the global assessment standards required to be Great Place to Work-Certified™, for the period of April 2021 to March 2022. This significant accomplishment highlights the company's ability to recruit and retain top talents, resulting from numerous initiatives implemented by the management.
Commenting on the new achievement, Group Managing Director Ms. M.G. Kumudika Fernando said, "Accountability, responsibility and social value creation are all key aspects of our corporate ethos and are a part of the foundation on which our company runs. Therefore, we are very proud and honored to have received the Great Place to Work® certification for the first time, covering the 2021-2022 financial year. This truly recognizes our efforts to create a positive working environment for all our staff, one that they enjoy working in, and is filled with trust and fairness, supported by adequate opportunities for growth. Our promise on driving internal value creation is built on our vision of being the most successful and respected biscuit company in Sri Lanka, and we will continue to explore avenues to enhance our workplace experience."
Group CEO Ravi Jayawardena said, "Realizing the dangers posed by the epidemic, we have taken action and taken various proactive measures to protect our valued employees, customers and other stakeholders. We have introduced mandatory health and safety protocols with a monthly investment of Rs. 30 million to ensure maximum security inside and outside our company premises. Employees have always been at the heart of Maliban culture, cultivating positive attitudes in employees as well as always striving to treat them as family. Thus, I am proud to say that Maliban was not fired or that no one's income levels were affected."
A crucial aspect of the 'Great Place to Work® CertifiedTM' programme includes the assessment of employee experience across 5 dimensions – credibility, respect, fairness, pride and camaraderie. Results generated from an extensive survey undergone by Maliban's employees indicate that the company has struck an ideal balance, showcasing the value felt by the staff in the company's efforts to ensure their personal and financial wellbeing.
Achieving the Great Place to Work® certification is the first part of Maliban's long-term social value creation journey and underlines the impact it creates as a socially responsible corporate, driven by its triple-bottom line focused sustainability strategy.